2019: Governorship candidate holds prayer session in Ogun
http://www.gatewaymail.org/wp-content/uploads/2016/10/Paseda...UPN-Ogun-State-Governorship-candidate..jpg
By Femi SHODUNKE
NIGERIA: ARE you a Christian and particularly a politician in Ogun State?
If yes, and if you are a Christian, but not a politician, definitely the governorship candidate of the United Party of Nigeria (UPN) in the Gateway State, Otunba Rotimi Paseda, is calling on you to join him in the prayer session for the state.
Paseda, who described himself as a prophet, said that the proposed three-day prayer session will hold in the three senatorial districts (Ogun West, Ogun Central, and Ogun East) of the state.
"I am Prophet Rotimi Paseda, a servant Christian politician," he told GatewayMail in an interview, adding: "I am looking for likeminded Christians to join me as volunteer prayer partners for a three days prayer meeting first week in December."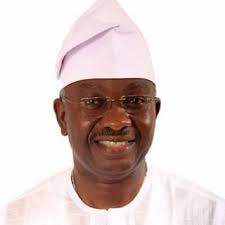 According to the governorship hopeful and the founder of Paseda Legacy Foundation, the prayer session, which is being organised in conjunction with Ogun State in the Presence of God (OGUNSPOG), is tagged "Revival of Hope."
He stressed that the prayer meeting cum revival programme will flag off in Ogun West (Sango Ota) on December 3, while the second comes up on December 10 in Ogun Central (Abeokuta), while Ogun East (Ijebu-Ode) will host the concluding part on December 17, 2017.
On the rationale behind the move, Paseda, who recently donated books and organised coaching lessons free of charge to pupils in primary and students in secondary schools across the state recently, explained that it was for good governance of Ogun State.
"The prayer meeting/revival is for all Christian politicians regardless of political affiliations," he said, adding: "It is a wakeup message to join the race if you have the calling or divine instruction and for those already in the race not to lose Christian values because of politics."
"Indeed, it is all about doing the right, equitable and charitable thing and about the suffering majority, among others.  I will be delivering a message in my sermon," Paseda stressed.
According to him, he would appreciate indigenes of the Gateway State, who are
"fellow servants and children of God" and "are led by the Holy Spirit or know anyone that may be interested" to join the revival crusade.
Paseda, who said that he would still contest in the race to succeed Governor Ibikunle Amosun in 2019, said that only God can crown him as the next governor of the state.
"Keep praying for God's protection and wisdom for me," he pleaded, adding: "Nothing more potent than collective prayers from the hearts of men to God."
Among others who will be ministering at the event, he stressed, are Pastor Babatunde Tosin (Co-ordinator, Abeokuta), Pastor Daniel Efe (Abeokuta), Rev. Akinrinade Julius (Ilaro), Rev. Ayanfe Olutola and Rev. Yomi Idowu, while Alanu Mi Gospel Band would entertain participants at the event.
"The first event will hold on the first Sunday, 3rd December by 3pm at Faith Chapel Christian Centre, 8 Faith Chapel Avenue, Off Alli Isiba Street, Abeokuta Expressway, Sango Ota," Paseda said.
To contact GatewayMail newspaper, Toronto, Canada email us at: info@gatewaymail.org, whatsapp or text message: +2348033186252 (no calls).