Two goals down Super Eagles beat Argentina 4-2
http://www.gatewaymail.org/wp-content/uploads/2017/11/Victorious-Super-Eagles..jpg
By Wole OTAYEMI (Abeokuta)
RUSSIA: FROM two goals down in the few minutes of the first half, Nigeria's Super Eagles on Tuesday defeated the former World Cup champion, Argentina.
The Nigerian lads showed superiority over their Argentine counterparts by defeating them four goals to two in the international friendly match played in Russia, which many said the players lived up to world class standard in the determination showed throughout the game.
The Argentines shot into the lead in the 28 minutes with a powerful free-kick by Eva Banega, just few metres away from the penalty yard box.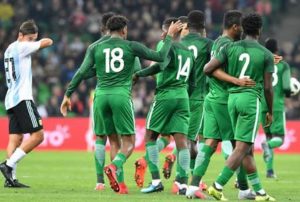 And in the 36 minutes, England based Sergio Aguero increased the goal before the Super Eagles players began fighting back, pilling pressures on the Argentine defence.
However, Kelechi Iheanacho scored the first goal via a curled free-kick before three more goals came with Alex Iwobi scoring twice and a solo effort from debutant, Brian Idowu to seal victory for Nigeria, which also defeated Argentine in the 1996 Olympic Games three goals to two.
The friendly game was part of build-up matches for the 2018 FIFA World Cup as both teams already have qualified for the Mundial, which its draws will take place in December 1in Moscow.
It would be recalled that the Nigerian players qualified for Russia 2018 on 14 points after the last weekend match they played against Algeria, which ended a goal apiece.
To qualify for the World Cup from the African qualifier series, the Super Eagles played six games, won four and drew two.
John Ogu scored the last goal before the trip to Russia next year when his shot beat the Algerian goalkeeper Faouzi Chaouchi to put the Super Eagles ahead in the 62nd minute.
But Nigeria would have earned 16 points when victory appeared in sight during the match against Algeria until the 87th minutes when the referee gave a controversial penalty to the North African team, which was converted to goal by Yacine Brahimi.
The referee penalised Shehu Abdullahi for allegedly committing foul against the Algerian skipper, during a goal-bound move in the 18 yard box.
Before the match against Algeria played in Constantine, the Super Eagles have qualified for the World Cup after beating their Zambian colleagues one goal to nil in the match played last October 7 at the Godswill Akpabio Stadium in Uyo, Cross River State.
To contact GatewayMail newspaper, Toronto, Canada email us at: info@gatewaymail.org, whatsapp or text message: +2348033186252 (no calls).