What FG considered as hate speech, by Buhari's adviser
http://www.gatewaymail.org/wp-content/uploads/2017/01/Femi-Adesina...Presidential-spokesperson..jpg
Mr. Femi Adesina, the Special Adviser, Media and Publicity, to President Muhammadu Buhari, recently spoke on Sweet FM radio, Abeokuta in Ogun Stated, interview. GatewayMail brings you excerpts of the session, particularly with phone-in session from callers asking questions during the programme:
By Olu AJAYI (Abeokuta)
Q: WHAT is Buhari government doing to ensure the health sector is revamped knowing fully well that resident doctors are on strike and many Nigerians are dying as a result of that?
A: The Minister of Health, Prof. Adewole and Minister for Labour are currently meeting with National Association of Resident Doctors on that matter.  I'm sure that they would come to an amicable resolution in the shortest possible time. It's in the interest of the public, it's in the interest of the country, it's in the interest of the health care sector that the matter be resolved as soon as possible.
Q: What about our education sector, it looks like somehow Nigerians say that what usually happen is that when they are getting into the federal universities, not necessarily in this particular era of the President Muhammadu Buhari led federal government, but overtime it is always expected for students of federal universities to add plus x where x equal to ASUU strike to the number of years they will spend in school.  What do you think could be done in this regard to find a lasting solution to this menace in the society?
A: You know that it's also very rare for government to come out to say yes we are at fault, we didn't keep our part of the bargain; we didn't keep promises made by the government.  That is what this government has done through the minister of education upper week.  He came to say yes, government is at fault, we didn't keep our end of the bargain with ASUU, but we know it is not this particular government but whatever promises the subsequent government has made we are bound by it.
What the government is doing is to find the best way possible to accommodate promises that have been made and do the best that is negotiations that is going on and then hopefully, on amicable resolution should come up soon.
Q: One major things that we find in that broadcast message from the President when he got back into the country is that Nigeria's unity is not negotiable and we have heard people who said that it is too late for the country to break and people really want the unity, but what has not been clearly stated is the president's take on restructuring. Will you like to be more specific on that?
A: The president has spoken a number of times on that, if you look at critically in the past he has addressed that matter. If you look at the manifesto of the ruling or the governing All Progressives Congress, you will find devolution of power and of course devolution of power is a form of restructuring.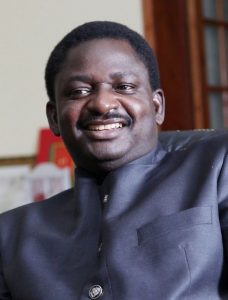 The one issue is that all those who are agitating for restructuring in the country don't even have the unanimity of definition of what restructuring is.  To sum, it is power, revenue to state, to some it is local government and you don't have a unanimity of definition, but APC in its manifesto has devolution of power and according to the national chairman of the party they will get there.
There is nothing that says that everything in the party manifesto must be done in the first one or two years. What matters is get it done in the lifetime of the administration. And the party has set up a committee to work out the details of what it will do in that area of restructuring, define restructuring, what is the kind of team that is good for the country, that committee in the party is working and when it finishes its work, I'm sure it's going to make recommendations to the government and government will look at the aspects of the recommendation it can implement within the lifetime of the administration.
Q: One other thing that concerns Nigeria is the sports sector.  Recently, the presidency released a statement congratulating the Super Eagles for the four nil comprehensive victory over Cameroon but some people have also asked that what would be done to sort of encourage them to do more than they have done in the first leg and the second leg?  What can be done to ensure that Super Eagles players would be happy to keep playing with their hearts? Are there some things other than the basic amenities being provided for them?
A:  Well that is why you have the NFF, the football federation and that is why you have a Sport Ministry in the federation I'm sure in between them they will do all that is needful.  It is not directly a presidency matter.
Q: It was in the news yesterday, specifically on vanguard that the president will like to return to office in 2019. Will you like to confirm this claim?
A:  It is the president that can confirm that anything said now, anything published now, anything written now is a conjecture until the president comes out to say yes, I am running.  We need to wait for him because he is the one that can give a definitive position.
Caller 1:
Q: On the issue of strike and strike actions here and there, what is the office of the president doing in handling all of these agreements they had with all of these unions before now until everything deteriorates?
A:  Well,  you know that agreements often time are predicated on funds and we all know what has been happening to Nigeria when oil prices crashed, and the financial fortune of the country also crashed so most of these agreements entered into in the past have not been met at least for now because of paucity of funds.
Caller 2:
Q: Mr. Adesina, I want to ask about the recently approved Mabilla Power Project.  There has been conflicting figures, conflicting amounts that the federal government issued on that project.  Sir, as a spokesperson can we get the right and the actual amount from you sir? Thank you. Good morning.
A:  On the Mabilla project, you will get the proper, the correct amount from the Ministry of Power because that project is domicile in that ministry. I'm sure what has been responsible for the conflicting figure if there is any is that Nigeria is just going to take a certain percent while the Chinese investors will supply the larger part.  I think Nigeria is not paying more than 15 percent at the highest.  It depends on calculations; how you calculate that amount from foreign currency to naira and all that.  But the Power Ministry can give a concrete figure.
Caller 3: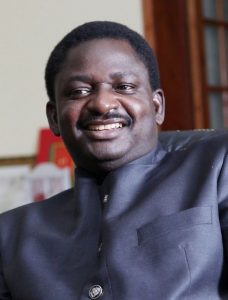 Q: Let me use this opportunity to ask this particular issue that has been of burning concern in the country. When the president returned from medical vacation abroad he made a statement that there will be no tolerance for any form of hate speech particularly clampdown on media, individual on social media who crosses the red line. I would like to ask Mr. Adesina, can you please specify what the president means by crossing the red line particularly he should define what hate speech is in terms of monitoring social media?
A:  It is simple.  Anybody who is president take an oath to defend the constitution and the constitution of Nigeria says we are one country, one people, united.  Now, if some people begin to call for the dismemberment of the country they are already going contrary to the constitution and for government because the constitution holds government responsible for the protection of lives and properties.
For government anybody that preaches dismemberment and balkanization of the federation, of course, he has crossed the red line which the constitution has already prescribed.  This is a united country, this is one nation.  Hate speech is apparent, anything that will whip up emotions in terms of ethnicity, in terms of religion, in terms of well-being that can spur people into wanting to go into violence, into vengeance or can cause discomfort for another people within the federation is hate speech. It doesn't need definition that much. Any speech that spurs people into hatred is hate speech.
Q:  Another question on people's mind is that of Kanu.  The president was reported to have said that the man is notorious and not popular.  I don't know whether that is true and vis-a-vis that South East governors met that same unpopular man. What is your take on this?
A:  Kanu's issue strictly for the court.  You know a lot of things are ascribed to the president, but as far as the presidency is concerned it is something that is before the court.  Whatever the court says, that is for the security agency. That matter is left to the court.
Q:  Did the president call him notorious just to clear the air on that?
A:  I am not aware of the president talking about an individual.  I don't recall the president talking about anyone.
Caller 4: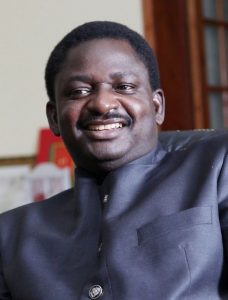 Q: A part of the country feels marginalized. You see, federal government, Mr. President said the unity of this country is not negotiable.  Yes, to achieve that I think the government should negotiate dialogue with those areas that said that feel marginalized. What do they need?  That could be having different meaning to them being marginalized. Niger delta says so, IPOB says so, government should dialogue with them and not returning fire for fire if we want peace in this country.  Then number two, why has the federal government not gone back to the report of the sovereign national conference to resolve most of the issues in this country especially in respect to restructuring? Thank you.
A: The president in the broadcast said that different parts of the country have genuine grievances.  I think the admission and the admittance of that is already clear that there would be dialogue and don't forget that the acting president engaged in series of visitations to different parts of the country and met with stakeholders from those areas. What else is that if not dialogue?
I think the person who asked the question may want to tell us what dialogue is if all that we have heard and is still ongoing.  It's in the papers today that some elements in the Niger Delta even threatened that the presidency must no longer dialogue with PANDEF.  This is the group of leadership from that area.
So who else will you then talk with if you say don't dialogue with our leader. Government believes in dialogue, is involved in dialogue and will continue to dialogue.  He asked about the report of the 2014 national conference.  The National Assembly before it went on recess asked that the executive should forward the report of that conference to it as Executive Bill so that is the request that has been made.  Let's see what happens.
Mr. Femi Adesina, we want to thank you for being here.  We appreciate you; we hoe that next to when we call on you we oblige our request.
 *For any reaction or to contact GatewayMail newspaper, Toronto, Canada email us at: info@gatewaymail.org, whatsapp or text message: +2348033186252 (no calls).