Use our club's creeds for Nigeria's unity, says Rotary president
Rotarian Titi Sunmonu is the current President of Rotary Club of Omole Golden, Lagos, Nigeria.  Indeed, Sunmonu made history when she was installed as the 13th and the first female President of her club.  Sunmonu, who is the Managing Director of TRM Insurance Brokers, spoke recently with GatewayMail newspaper on her activities and plans for her club to take it higher among the Rotary clubs within District 9110.
http://www.gatewaymail.org/wp-content/uploads/2017/04/FB_IMG_1493008983838.jpg
By 'Femi SHODUNKE
NIGERIA: ONE Rotarian that stands out among the Rotary Club presidents in District 9110 is Titi Sunmonu.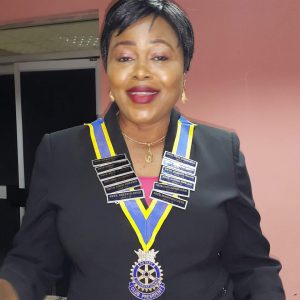 For the second time in a row, her club, Rotary Club of Omole Golden in Lagos won the overall best club within District 9110.  And she has restated her determination to continue in this giant stride to register her club's name among the leading clubs within the district.
"My club, Rotary Club of Omole Golden is one of the over 95 clubs in District 9110 (covering Lagos and Ogun states)," Rotarian Sunmonu, who is the first female President of her club, said, adding: "In fact, the overall best club in the District, second year running."
Sunmonu, an insurance practitioner, who is the Managing Director of TRM Insurance Brokers, believes that Rotary has one of the best ways to ensure unity in Nigeria going by its creed.
Her words: "One of Rotary's six areas of focus is peace and conflict prevention/resolution.  Once we practice what Rotary preaches, it will gradually rub off on our neighbours and the society at large and we will live together as one."
"In Rotary, we do not discriminate because of our different religions.  We see one another as family and we are closely bonded," the insurance expert said.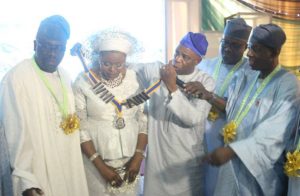 Sunmonu went down the memory lane on how she emerged as the 13th President of her club.
She told GatewayMail: "I am Rotarian Titi Sunmonu, the first female President of Rotary Club of Omole Golden and a lovely mother.  It was by election after careful screening of one's integrity, personality, educational background, financial status, commitment and dedication to Rotary's activities and more importantly Rotary knowledge that I became the 13th president of my noble club."
Since Sunmonu assumed duty she has been discharging her duties diligently.  "My activities as a Rotarian are quite huge: presiding over weekly meetings with written report called 'Behind the gavel,' carrying out various projects touching on Rotary's six areas of focus, organizing trainings and lectures, representing the club in district and other club's activities, and ensuring bonding amongst members," she declared.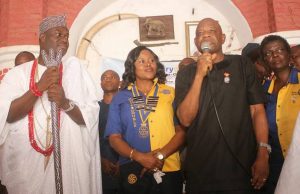 She added: "As the president, running the affairs of the Club with the help of my Board, my Committee Chairmen, my Council of Past Presidents and indeed all distinguished members is top priority since my assumption of office.
She spoke on her tenure since she became the President.  "It's been a very peaceful and fulfilling one to the glory of the Most High God.  Rotary tenureship is a year starting from 1st July of every year.  And Rotary succession plan is fantastic!" Sunmonu explained.
She further said: "My tenure will end 30th June, 2017.   By 1st July, 2017, a new club president in the person of Rotarian Abiodun Oshinibosi will take over the mantle of my club.  The succession plan/training has already commenced."
The President of Rotary Club of Omole Golden also spoke on the club's visit to the palace of the Ooni of Ife, Oba Adeyeye Enitan Ogunwusi.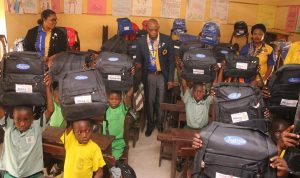 "My club was in Ife recently, firstly to induct the Ooni as an active member of our club (he was our honorary member, prior)," Sunmonu said, adding: "Secondly, to decorate him and his dear wife, as Paul Harris Fellow (PHF) members, and thirdly to execute a 'Roll Back malaria project' where we gave out 1,000 treated mosquito nets and treated people that tested positive to malaria parasite."
As a Yoruba woman, Sunmonu expressed delight on the level of cordial relationship among traditional rulers in Yorubaland, particularly the peace and reconciliation moves by Oba Ogunwusi among the rulers.
"Yes, there is unity among our traditional rulers, and there is evident peace and unity amongst them," she declared.
On her club's programme so far, Sunmonu stated that series of projects had been executed for the benefits of the people within and outside the club's immediate environment.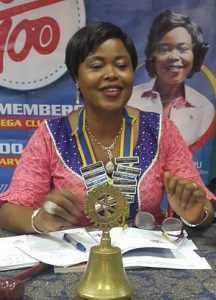 "So far in this Rotary year (my tenure), we have executed over 12 projects that have addressed the needs of various people within and outside our immediate community," she declared.
On her plans in office, Sunmonu said: "My plans as the president is to increase membership of my club, contribute significantly to Rotary Foundation, carry out meaningful and impactful projects and encourage better bonding amongst my members."
On her assessment of President Muhammadu Buhari administration, she declared: "Rotarians are trained not to dabble into political or religious matter of any sort."
"Rotary is against it in all ramifications," Sunmonu matter-of-factly maintained.
For any reaction or to contact GatewayMail newspaper, Toronto, Canada email us at: info@gatewaymail.org, whatsapp or text message: +2348033186252 (no calls).