Trainee journalism students honour ex-NUJ zonal scribe
http://www.gatewaymail.org/wp-content/uploads/2016/02/Dimeji-displaying-his-award-in-company-of-Adejobi-and-others..jpg
NIGERIA: IT was a day of glory for the former Zonal Secretary of the Nigeria Union of Journalists (NUJ), Prince Dimeji Kayode-Adedeji, as students of Mass Communication of Moshood Abiola Polytechnic, Abeokuta honored him with an award.
The students said that they were impressed by the sterling qualities of Kayode-Adedeji in motivating trainee-journalists, the development which informed their decision to bestow on him with the "Outstanding Motivator for Cub Journalists" award.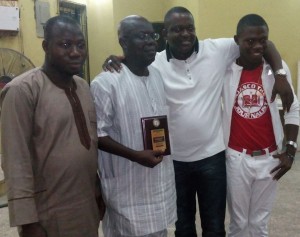 The students, who completed their industrial training with Ogun State Council of NUJ, presented the award during their send-forth on Friday held at Iwe-Iroyin Press Centre, Abeokuta.
One of the best students, Ayobami Odeyemi, who presented the award to Kayode-Adedeji, said that the veteran journalist, often called "Penpusher" had added value to their chosen profession during the period of their training.
"We are proud to confirm that our leader in the profession, Prince Dimeji Kayode-Adedeji remained a motivating factor for us in this noble profession," Odeyemi said.
He further said: "He has added value to our career within the period we have spent here. And we can proudly say that he deserves the honor and award as the outstanding motivator for cub journalists."
Odeyemi also pointed out that the over 100 students who had their industrial training with the union were proud and happy to be associated with him, stressing that he was a leader of leaders, and good father to all the students.
Turning towards Kayode-Adedeji, he said: "Sir, you have encouraged us, you have always been with us, both in the theory and particularly in the practical aspect."
"We promised that we shall make you proud on this profession and we shall not let you down or disappoint you," Odeyemi said, adding: "We are really grateful and your love and support for us will remain indelible in our memory."
A highly elated Kayode-Adedeji, in his acceptance speech, said that the students caught him unaware with the award.
He, however, expressed profound appreciation to the students, with assurance that he would not relent in his efforts in ensuring that the students excel in the profession.
The ex-Zonal Secretary also charged the students not to relent in ensuring that they become celebrated journalists.
This, according to him, could only be possible if they show passion, dedication and commitment to the profession.
"I appreciate you all, and let me further assure you that I will continue to support and encourage you," Kayode-Adedeji said, adding: "And talking seriously, journalism is a noble profession."
He further stressed: "I don't regret being a journalist and if I have opportunity to come back to this world again, I will remain a journalist," he stressed.
Kayode-Adedeji, who is the first Nigerian journalist to be celebrated by former President Olusegun Obasanjo, advised the upcoming journalists to let truth be their watchword while practising the profession.
He also urged the students avoid blackmail if they want to attain top level in the profession.
Similarly, at the ceremony, a media consultancy firm, Steppingstone Communications, also gave award of 2016 Best Industrial Attachment to Johnson Idowu, with cash backing, while 17 others were presented with various journalism books for their outstanding performances.
There was also an unveiling of the NEWSPOINT newspaper produced by the SIWES attaches, as part of their training requirements.
The students, however, expressed appreciation to the management of GatewayMail for providing conducive platform for them to operate and show their journalistic skills.
They said that GatewayMail will forever remain a reference point for them in their career.
According to the highly elated students, their maiden bylines in journalism career appeared in the newspaper, which was a motivating factor to them.
The high-point of the event was the launching of the yearly publication of NEWSPOINT newspaper and the presentation of awards and gifts to the best overall student and 17 outstanding students for their excellent performance during Student Industrial Work Experience Scheme (SIWES) program.
Some notable personalities at the occasion include Wole Shokunbi (Chairman, Ogun NUJ), Amos Kolawole (Head of Mass Communication Department, Moshood Abiola Polytechnic, Abeokuta), Goke Rauf (former Head of Mass Communication Department, Moshood Abiola Polytechnic), Muyiwa Adejobi (Ogun State Police Command Public Relations Officer), Olanrewaju Kareem (Public Relations Officer, Nigeria Security and Civil Defence Corps, Ogun State Command) and Wasiu Tejuoso (Lecturer, Mass Communication Department, Moshood Abiola Polytechnic).