Don't see journalists as enemies, ex-NUJ officer tells government
http://www.gatewaymail.org/wp-content/uploads/2015/12/Dimeji-Kayode-Adedeji...NUJ-Ex-Zonal-Secretary.jpg
NIGERIA: A ONE-TIME Zonal Secretary of the Nigeria Union of Journalists (NUJ), Dimeji Kayode-Adedeji, has counselled government at all levels not to see journalists as their enemies in the course of governance.
Kayode-Adedeji, who gave the advice while featuring as guest on an Abeokuta based radio station, Rockcity FM, explained that journalists have constitutional duties to report activities of government, which include the good, the bad and the ugly.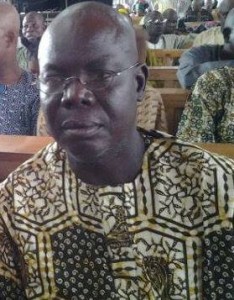 "Government should not see journalists as enemies, rather government should see journalists as partners in progress towards nation building," the journalist, who is the first zonal secretary, Zone D of the NUJ said, adding: "Journalists have constitutional roles to play in reporting all activities of government to the world."
The ex-zonal scribe stated that it was only government, which has hidden agenda and dubious in activities, that would see journalists as enemies, stressing that there must be transparency in government.
He said: "The governed must be made to know, through journalists, how the authority is governing them.  Transparency must be the watchword of government and a sincere government must not hide for journalists, if such authority has no skeleton in its cupboard."
Kayode-Adedeji also cautioned journalists to avoid falsehood and blackmail, pointing out that journalists who embarked on such practice are clearly working against the ethics of the profession and would end up being unsuccessful in the practice of journalism.
His words: "I want to call on journalists to do away with falsehood and blackmail as these are against the ethics of the noble profession."
"Any journalist in such practice is only walking and working towards his or her failure.  Such journalist cannot be successful, and should wait for law of karma," the former union national officer said.
The NUJ ex-scribe said journalists must also be security conscious, stating that it was a known fact that criminals exposed would never appreciate them, rather they would always plan evil against them, if opportunity is available to carry out such plot.
He also frowned at the slavery tendencies of many publishers in the country, who employed journalists and end up owing  them salaries running into several months and years, and also not providing them with working tools.
"Many of the publishers in this country are slave drivers," Kayode-Adedeji said, while further stressing: "They employed and end up owing salaries for months and years."
He stressed: "Findings also revealed that many journalists are not provided with working tools, which include office, among others essentials to enhance their performances.
"This is uncalled for and unfair and I want to call on the union leadership not to rest on their oars in addressing this inhuman treatment."