Saraki tasks Nigerian ICC President on reforms to assure African nations
http://www.gatewaymail.org/wp-content/uploads/2018/04/Bukola-Saraki.jpg
By Olu AJAYI  (Abeokuta)
NIGERIA: SENATE President, Dr. Abubakar Bukola Saraki, has a piece of advice for the new President of the International Criminal Court (ICC), Justice Chile Eboe-Osuji.
Saraki charged the Nigerian born Justice to, among others, embark on urgent reforms of the ICC to reassure some African countries that accused the court of discrimination.
The Senate President made the call when Eboe-Osuji visited him at the National Assembly in Abuja.
According to a news release signed by the Special Assistant to the Senate President on Print Media, Chuks Okocha, and made available to GatewayMail, Saraki told Eboe-Osuji that during his tenure he should restore confidence in the ICC.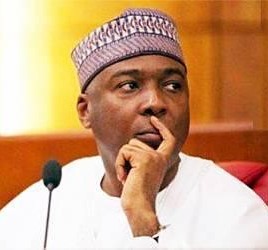 He said: "You have come at a very challenging time because as you know there are brother African countries that have different views about the ICC at this particular time and Nigeria will continue to play the role to stand firm to be able to be a kind of arbiter between different countries."
"I think having you as the President is well thought out.  It is very important to have someone like you heading the place," the ex-Kwara State Governor said, adding: "I think there's need to look at reforms in order to give everybody a sense of belonging and fulfill the goals and objectives of the ICC."
"I think that there will be need to always do that which is right to give all countries a sense of belonging," Saraki further said, while promising Eboe-Osuji of the National Assembly's support.
"What I can assure you is that here in the National Assembly, we will support you and ensure that you make your mark and be a shining star among us and other countries," he stated.
He also said: "I am very certain that you will make a very successful tenure as the President of the ICC.  Let me also reiterate our country's and National Assembly's commitment to support the vision of the ICC, which is to ensure that we do as much as we can to fight crimes against humanity."
Saraki, however, praised Eboe-Osuji on the visit and pledged the National Assembly's support to the success of the objectives and goals of the founding fathers of the ICC.
Earlier, Eboe-Osuji had told Saraki that his visit was to appreciate the support and encouragement from the government and people of Nigeria when he contested for the presidency of the ICC.
The international jurist said that he was particularly encouraged by President Muhammadu Buhari, who through the Attorney General of the Federation, Abubakar Malami, congratulated him when he was elected the President.
Eboe-Osuji stated that Nigeria was one of the first 60 signatories to the Rome Statute that established the court.
According to him, the court has a global objective to end impunity, fight genocide, war crimes and crimes of aggression.
To contact GatewayMailnewspaper, Toronto, Canada email us at: info@gatewaymail.org, WhatsApp or text message: +2348033186252 (no calls).