Police officer kills another Nigerian in South Africa
http://www.gatewaymail.org/wp-content/uploads/2018/04/Xenophobic.jpg
By Olu AJAYI (Abeokuta)
NIGERIA: ANOTHER Nigerian, ThankGod Okoro, has been killed in South Africa.
GatewayMail gathered that the death of the 30-year-old Okoro from Ogbaku in Awgu Local Government Area of Enugu State has thrown the Nigerian community in the country into a mourning mood.
With the murder of Okoro, which is the latest in the recurring death of Nigerians in South Africa, GatewayMail further learnt that the number of Nigerians killed in South African had increased to 117 since February 2016.
No fewer than 800,000 Nigerians, mostly young ones, going by official record, live in the former apartheid enclave.
According to the Publicity Secretary of the Nigeria Union in South Africa, Habib Miller, the deceased was allegedly shot in the head by a South African police officer.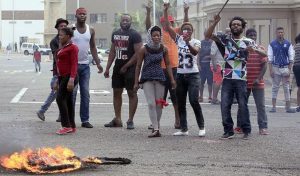 "The union is not happy with the latest murder of ThankGod Okoro on April 9 by a member of the South African Police Flying Squad at Hamburg, Florida West Rand in Johannesburg," Miller, who is based in Pretoria, said.
Miller explained that the police officer, who killed Okoro, claimed that the Nigerian attempted to stab him during a stop-and-search operation.
However, it was further learnt that the Acting President of the Union, Joshua Ogade, and the head of the union's legal team, Omoreige Ogboro, had visited the place where Okoro was killed, to gather information on the incident.
Miller said that the team had also visited the police station to ensure that due process was followed in seeking justice on Okoro's death.
He also stated that the Independent Police Investigative Directorate had been notified of Okoro's death and that the police had commenced investigation to unravel the circumstances that led to the killing of the Nigerian.
He, however, explained that the union learnt from investigators that the trigger-happy police officer had few weeks earlier boasted that he would kill Okoro.
In this regard, according to Miller, the union had urged the South African authorities to intervene in the matter to prevent further wanton killing of Nigerians by policemen.
"Anyone suspected or found on the wrong side of the law should be arrested and tried at the appropriate court rather than killing Nigerians extra-judiciously," he said.
To contact GatewayMailnewspaper, Toronto, Canada email us at: info@gatewaymail.org, WhatsApp or text message: +2348033186252 (no calls).