OGUNCCIMA plans big for local SMEs during forthcoming trade fair
http://www.gatewaymail.org/wp-content/uploads/2018/04/OGUNCCIMA-President.jpg
By Olusola AJIBIKE (Abeokuta)
NIGERIA: THE Ogun State Chambers of Commerce, Industry, Mines and Agriculture (OGUNCCIMA) plans to ensure Small Medium Enterprises benefit from foreign direct investments.
According to OGUNCCIMA President, Mrs. Adesola Adebutu, the benefit would be through horizontal and vertical linkages.
She said while addressing newsmen at a press conference held in preparation for the 2018 Gateway International Trade Fair at the weekend that participants from China and ECOWAS nations would participate and exhibit their products during the fair.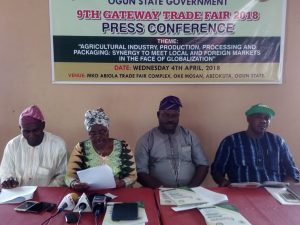 Adebutu, who added that the fair would provide opportunity which will open the vista of industrial development to all and sundry, also stressed that the event would create an interaction between the local SMEs and the foreign companies.
"The 9th Gateway International Trade Fair is being planned to ensure that SMEs in Ogun State benefit from the foreign direct investments through horizontal and vertical linkages," she said.
"We are taking advantage of this amazing opportunity to use the trade fair to expose the companies both old and new in Ogun to the emerging local and international market opportunities and create and interference between the foreign investors and Local SME's," she further stressed.
Adebutu, however, explained that the fair's theme this year was relevant at the present stage of the nation's socio-economic space.
According to her, OGUNCCIMA's intention is to use the fair to contribute its quota to the sustenance of economic gain in the country.
The trade fair, which will hold between Wednesday, April 25 and Monday, May 7, would be attended by, among others, participants who are manufacturers, farmers, industrialists, importers, exporters, and government parastatals. (April 9, 2018).
To contact GatewayMailnewspaper, Toronto, Canada email us at: info@gatewaymail.org, WhatsApp or text message: +2348033186252 (no calls).