Mechanic kills, buries lady friend after encounter in hotel
http://www.gatewaymail.org/wp-content/uploads/2018/03/Owolabi-pulling-the-victims-legs-where-she-was-buried..jpg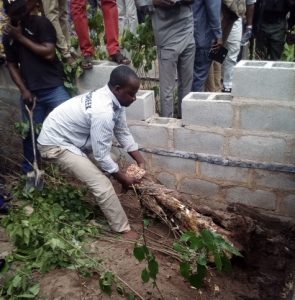 By Olusola AJIBIKE (Abeokuta)
NIGERIA: POLICEMEN in Ogun State have arrested a 36-year-old man, Musiliu Owolabi, for allegedly killing his woman friend.
The police said that after killing the 40-year-old Fausat Idowu, the suspect buried her at the back of his house after.
Owolabi was allegedly to have earlier had sex with the deceased in a hotel in Abeokuta, the state capital before the tragedy occurred.
While leading journalists to the crime scene at Gbagba village, the state Police Commissioner, Mr. Ahmed Iliyasu, explained that Owolabi was arrested on Tuesday March 19 for allegedly killing the divorcee mother of four, who had been declared missing since last February 1.
The police boss, who later paraded the suspect at the Eleweran Police headquarters, said that Owolabi reportedly buried the deceased in a nearby bush behind his house in Gbagba village, Osara in Abeokuta.
According to the Commissioner, the suspect was nabbed through technical intelligence after it was discovered that Owolabi was the last person that spoke with the deceased on phone.
Iliyasu said that "the suspect here was arrested through painstaking technical intelligence by our men at state Criminal Investigation and Intelligence Department for Culpable Homicide."
"His lady friend was earlier reported missing by her younger brother, Hammed Idowu, when she left home since February 1, 2018 to attend a naming ceremony at Bode-Olude area, Abeokuta, but yet to return since then," Iliyasu said.
He added: "On the strength of the reports, a technical intelligence based investigation was embarked upon by detectives at Homicide section; her telephone call log was profiled and revealed that the last person she spoke with was Owolabi Musiliu who was tracked and apprehended on March 19, 2018 at Camp area, Abeokuta."
Owolabi, however, told journalists that he took the deceased to a hotel in Abeokuta for pleasure, but swore that he did not kill her.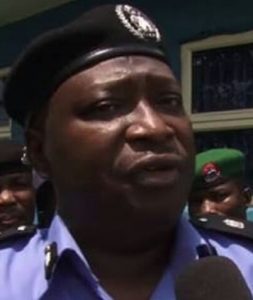 The suspect, who is a mechanic and a father of three children, claimed that Fausat died of suffocation when he was about to have sex with her.
"I did not kill her, I swear before God," he said, adding: "When we were about to start sex, she started complaining of heat, so I switched on the fan and also opened the window.  Later she became restless and I decided to rush her to the hospital."
"One of the hotel attendants directed me to a nearby hospital, but before I got there, she had given up," the suspect further said in Yoruba.
On why he refused to inform the police or family members of the deceased, Owolabi said: "I was afraid.  I thought I would be in trouble by reporting to the Police, so I decided to bury her secretly and I buried her phone too."
Iliyasu, however, told journalists that the suspect would soon be arraigned in court.
To contact GatewayMail newspaper, Toronto, Canada email us at: info@gatewaymail.org, whatsapp or text message: +2348033186252 (no calls).