Ogun is Nigeria's industrial hub, says Amosun
http://www.gatewaymail.org/wp-content/uploads/2018/03/Amosun-speaking-at-the-summit..jpg
By Olusola AJIBIKE (Abeokuta)
NIGERIA: OGUN State Governor, Senator Ibikunle Amosun, has described the state as the industrial hub of the country, just as his administration focused more on mining, culture and technology in its 2018 Investor's Forum.
Amosun explained at the Ogun State investors' forum 2018 with the theme "Consolidating the grains, accelerating growth," that the government decided to focus on mining because the state is foremost in limestone deposit.
While declaring open the two-day forum held between Tuesday, March 20 and Wednesday, March 21 at MITROS Residences, Gateway Annex, Abeokuta, Amosun further said that his administration was doing all it could to generate good IGR.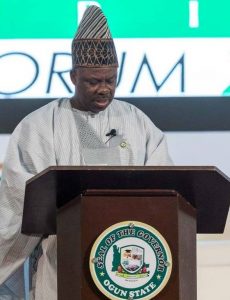 "We are not the commercial capital of Nigeria, but we are proud to be the industrial hub of Nigeria," he said joyfully, adding: "In Nigeria today, we are number two.  We have the potential to be number one."
He also said: "In the area of agriculture, we want to be number one.  We are open for business.  When we came, we said Ogun is an economic volcano that is waiting to erupt and it is erupting before our very eyes; it is erupting."
"In 2018, we say let us consolidate all the gains that we have made in office and begin to accelerate our growth; we realize that we have done a lot so we want to consolidate on those gains and we are not going to stop," Amosun further stated.
The Governor also stressed that if the state government was able to get agriculture and agri-business right the state will be up there.
"Technology is now the in-thing in the world.  This year of consolidating gains and accelerating growth; it is by three things – agriculture, industry, and technology," he said.
Amosun maintained: "We want to work smart by building on the Tech Summit we had earlier this year.  In everything we do, even for our youths, we want to produce employable youths, we don't want graduates that will not be useful to themselves; we want them to be part of all that is happening in Ogun State.
"We are providing enabling environment, we want people to not just work here but also live here."
He stated that no fewer than 148 industrial concerns have begun operations in the state and invested between $200 million and $2 billion in the last two years.
The Governor also explained that his administration had embarked on a giant stride in industrialising the state through the provision of an enabling environment for businesses to thrive.
Amosun stressed that his government predicated its development on three key areas –agriculture, industry and technology – to drive the consolidation gains and accelerate growth.
According to him, in the past before he became the governor, the government he inherited on May 29, 2011 was partially civil service-driven, but with his vision he has transformed the state to become the industrial giant of Nigeria and the West Africa sub-region.
He said: "In the manufacturing business in Nigeria, we have diversified the economy for us to grow in Ogun State.  The first thing, we have demonstrated thus with the investors and entrepreneurs.  We have created an enabling environment for businesses to thrive.
"So, about 148 companies have established shops and invested between 200 million dollars and 2 billion dollars in the last two years.  Every day, new investors come to us in a bid to establish their businesses here in Ogun State.
"But we want to take development and growth in Ogun State beyond the industrial hub of the country.  When we came on board, we came with five cardinal programmes and thank God today Ogun State is out of the doldrums.
"Things are now taking shapes.  In the comity of states, in terms of IGR, Ogun State is second in position.  Initially, upon assumption of office in 2011, we were generating N730 million as IGR monthly but now, we are generating N7 billion monthly.  We have the potentials.  We have large expanse of land.  With agriculture, we want to leverage on value chains."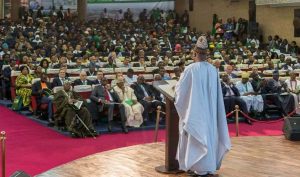 Amosun also said: "Our aim is to consolidate all gains and to accelerate growth.  We want to concentrate on what we have achieved.  We want to exploit specific growth. We will collaborate with investors and entrepreneurs.  In totality, we are looking at human endeavours.  Of all these giant strides, we are proud of these developments in Ogun State."
He lamented the sharing formula arising from the 35 percent Value Added Tax (VAT), that is accruing to the state despite being the industrial hub of the country with greatest number of manufacturing companies being spread across the state.
According to him, the state is placed 26th position while receiving its due from the Federation Account.
"It means something is wrong.  And that is why we are working towards improving on that," the governor said.
Amosun, however, rubbished the report credited to the Chairman of the Federal Inland Revenue Service (FIRS), Mr. Tunde Fowler, that 98 percent of the people working in Ogun State live in Lagos State.
To contactGatewayMail newspaper, Toronto, Canada email us at: info@gatewaymail.org, whatsapp or text message: +2348033186252 (no calls).