Ontario to commit $2.4 bn to SickKids new care centre
http://www.gatewaymail.org/wp-content/uploads/2017/03/Premier-Wynne..jpg
By Femi SHODUNKE
CANADA: ONTARIO Province is set to commit up to $2.4 billion for the design and construction of the Hospital for Sick Children (SickKids) new Patient Care Centre.
The move, according to Premier Kathleen Wynne, is part of the Liberal Party's massive redevelopment plan that will transform SickKids into a 21st-century facility, modernize aging equipment and spaces, and boost the hospital's capacity to provide leading-edge care for children.
Wynne, who was accompanied by the Minister of Finance, Charles Sousa, and his Health and Long-Term colleague, Dr. Helena Jaczek, on Friday during her visit to SickKids premises gave details of how Ontario's investment will provide leading care for the youngest patients from all across the province.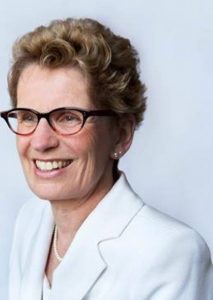 She explained that the provision for the money would be contained in the upcoming provincial budget.
According to her, the financial initiative would help SickKids, reputed as one of the world's largest and most respected pediatric hospitals, continue to provide the most advanced, compassionate care to children from all over Ontario,
GatewayMail gathered that the care centre, upon completion, will bring together vital services, including emergency and critical care, surgical care, bone marrow transplants, and diagnostic services, and specialty clinics.
"It will provide a more comfortable experience for families and give doctors and researchers the tools they need to translate research discoveries into new treatments, giving more children and their families faster access to the best care," a release from Ontario News further explained.
"As any parent knows, when a child is sick nothing else matters," the Premier said.  "The incredible physicians, nurses and staff members at SickKids understand that." She further said: "What they do for families every day is extraordinary.  We have to support that.  We have to make sure they can provide the world's best care to every child who comes through these doors.
"That's what this historic investment in SickKids is all about, and it's why we're building new and improved hospitals around the province.  Care has to come first."
It was, however, learnt that the province is investing more than $19 billion over the next 10 years to improve and expand hospitals.
"There are 40 major hospital projects either under construction or in planning stages," it was further gathered.
"Investing in new hospitals and the best in children's health care is part of the government's plan to support care, create opportunity and make life more affordable during this period of rapid economic change," it was also learnt.
However, Jaczek said on the plan: "Our government is dedicated to making sure hospitals across the province have the support required to meet the growing needs of their communities."
"This transformational investment would enable SickKids to continue providing leading-edge children's health care well into the future," the Minister said, adding: "Increasing access to critical services at hospitals like SickKids will mean more children across Ontario will be able to grow up healthy, strong and able to reach their full potential."
Similarly, the President and Chief Executive Officer of the Hospital for Sick Children, Dr. Michael Apkon said: "This historic and important investment will ensure that we are able to deliver safe, cutting-edge care to the most critically ill children in Ontario for generations to come.
"It will allow us to build a state-of-the-art facility that will continue to give patients and families hope and comfort as they face serious illness and injury."
Apkon stressed: "A redeveloped SickKids will also attract more of the world's top clinicians and researchers to join SickKids in our fight against childhood illness and disease."
To contactGatewayMail newspaper, Toronto, Canada email us at: info@gatewaymail.org, whatsapp or text message: +2348033186252 (no calls).