Fed lawmaker expresses fear over more political power for women
http://www.gatewaymail.org/wp-content/uploads/2018/03/Hon.-Kazaure.jpg
By Olu AJAYI (Abeokuta)
NIGERIA: A MEMBER of the House of Representatives, Muhammed Kazaure, has said that it was dangerous to give enormous power to women.
According to him, doing so in the name of equal opportunities will be counterproductive for effective governance.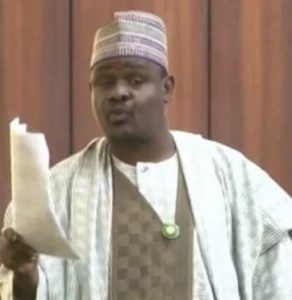 Kazaure, a member of House of Representatives representing Kazaure/ Roni/Gwiwa/Yankwashi Federal Constituency of Jigawa State, said this on the floor of the House while contributing on the debate to mark the International Women's Day. While warning Nigerian men against being dislodge by women, he stated that women should be empowered, but not on the same level with men.
Kazaure maintained that women already have enormous power over men but giving them more will leave the men to the back seat in governance.
The lawmaker explained, for instance, that he would have to run back to his home should his wife call him unexpectedly.
"What I fear Mr. Speaker, they control us at home," he said, adding: "When we give them opportunity outside, when they control us outside the home, they will capture everything Mr. Speaker."
"That is what I fear because most of the women are very intelligent because you can see a chief, a big man controlled by his wife.  That is what I observe," Kazaure stressed.
He added: "Majority of the big people if you need something from them don't go directly, go to the wife you will easily get what you want. So, if you give them more chance, one day they will overthrow us."
According to him, giving too much empowerment and enlightenment to women will place the men at disadvantaged position in the political arena.
He cautioned that the consequences of handing too much power and opportunity to the women would be detrimental to the men.
"I was voted.  I came here with almost 60 to 70 per cent of my votes from women.  So, if women understand this thing well well they will vote us out.  If women become 70 to 80 percent in this chamber they will mess up," the legislator said.
He also said: "We are the one controlling them.  That is why God say they should come under us.  We will marry them, they will serve under us.  God knows what is there with them.  He knows everything with them that is why he said let them stay under our control."
To contactGatewayMail newspaper, Toronto, Canada email us at: info@gatewaymail.org, whatsapp or text message: +2348033186252 (no calls).