Lagos NUJ okays 10 years ban on NAWOJ chair, treasurer, ex-chairman
http://www.gatewaymail.org/wp-content/uploads/2018/03/Anawo-presenting-the-report-to-Akinreti-and-Vice-Chairman-Abiola-Beckley-of-Ray-Power-in-Lagos-on-Friday..jpg
By Femi SHODUNKE
NIGERIA: JOURNALISTS in the Lagos State Council of the Nigeria Union of Journalists (NUJ) have adopted the 10 years ban imposed as punishment on the Chairperson of the Nigeria Association of Women Journalists (NAWOJ), Mrs. Ify Omowole, the association's Treasurer, Mrs. Tosin Odusola, and the immediate past Chairman of the council, Mr. Deji Elumoye.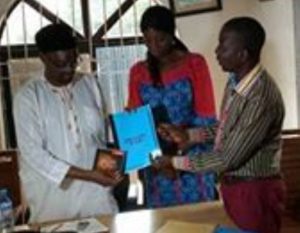 The NUJ members, GatewayMail learnt, resolved at their meeting held in Lagos on Saturday that they agreed with the recommendation of the probe committee on the Mowe (Abaren)/Pen-Jewel Estate land crisis that the three officials should not hold any office to "serve as a deterrent to others who may in future want to serve the NUJ to be upright in their dealings while in office."
The trio were indicted by the panel to have played untidy roles in the alleged misappropriation of funds on the proposed 56. 753 hectares estate valued at N1.6 billion.
In addition, the members resolved that the committee's report should be sent to Economic and Financial Crime Commission (EFCC) as recommended, but the NUJ National President, Mr Waheed Odusile, was alleged to have said that the Lagos NUJ's resolution can only be effected after ratification by the national body of the union at its next National Executive Council meeting scheduled to hold coming May in Birnin Kebbi, Kebbi State.
However, in order to give effect to the ban and other decisions reached at the congress, the 15-point recommendations was read and adopted by the members after the needed amendments.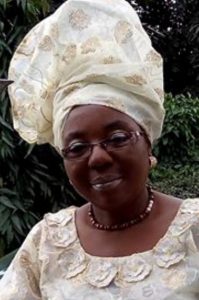 But Odusile's submission did not go down well with some of the journalists who were peeved over the misappropriation of the funds for the project, which they believed should have taken off since if not completed by now.
Earlier, trouble was averted at the meeting when the former Lagos NAWOJ Chairperson, Mrs. Dupe Laoye-Osinkolu, explained that the Memorandum of Understanding for the housing project was unilaterally drafted by Omowole, without the knowledge of other members of her executive council.
But some of the council members, who appeared to be sympathetic to Omowole, attacked the ex-Lagos NAWOJ boss, with a member accusing Osinkolu of keeping expired dollars rejected by the bank and accruals from the sales of registration forms for the proposed housing project.
The Lagos NUJ Chairman, Dr. Qasim Akinreti, intervened to calm the tense moment and brought out a document to show the members how Odusola signed for and collected money on forms from Osinkolu.
According to him, he could not understand why Odusola shunned the invitation extended to her throughout the committee's four months sitting.
*To contact GatewayMail newspaper, Toronto, Canada email us at: info@gatewaymail.org, whatsapp or text message: +2348033186252 (no calls)