Boko Haram kills four UN aid workers
http://www.gatewaymail.org/wp-content/uploads/2018/03/UN-Secretary-General-Antonio-Guterres..jpg
By Olu AJAYI (Abeokuta)
NIGERIA: MEMBERS of the dreaded Boko Haram have killed four United Nations (UN) aid workers.
Similarly, after their night attack, which occurred in Rann community in Kala Balge Local Government of Borno, a female worker was declared missing.
GatewayMail learnt from the Head of Communications, UNICEF Office for Coordination of Humanitarian Affairs (OCHA), Samantha Newport, that a female nurse was also abducted while another sustained injuries.
It was further gathered that two of the deceased were workers of the UN client organisation, International Organisation of Migration (IOM), who were deployed to Rann as camp managers.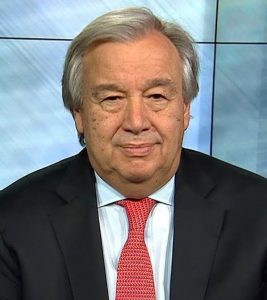 Newport also explained that others killed included a medical consultant working with UNICEF and an aid worker with the International Committee of Red Cross (ICRC) affiliate organisation.
According to the Communications head the victims were Nigerians, while also stressing that the UN would soon issue a statement on the incident.
Also, it was gathered from a source that the insurgents, who moved in gun trucks and motorcycles, infiltrated the town where they attacked a military base and Internally Displaced Persons' camp and humanitarian workers.
Reliable source also told GatewayMail that an audio distress message sent out by a woman working for the ICRC confirmed that the village was attacked by terrorists.
Though there is no telephone service in Rann, but humanitarian workers depend on wifi services provided by their employers to communicate with loved ones via social media platforms that support video or voice calls.
According to sources, the ICRC staff, in the audio, was heard lamenting with a male colleague that they were under attack and that they had to run to the nearby military base for protection.
The source further explained that her last voice message suggested that the attackers eventually stormed the military base where she and others were taking refuge and that she was about to be harmed.
The source also confirmed that her last message in Hausa was "oh my God they are now coming in they are going to kill me…"
To contact GatewayMail newspaper, Toronto, Canada email us at: info@gatewaymail.org, whatsapp or text message: +2348033186252 (no calls).