Amosun harps on rulers' roles in socio-economic development of communities
http://www.gatewaymail.org/wp-content/uploads/2018/02/Oba.jpg
By Olu AJAYI (Abeokuta)
NIGERIA: TRADITIONAL institution has been described as a symbol of sovereignty and melting pot for communal efforts towards socio-economic development of communities.
Ogun State Governor, Senator Ibikunle Amosun, made this known over the weekend at the installation and presentation of staff of office to Oba Clement Akinola Omosowon of the Orisanwo Ruling House as the new Elewo of Ilewo Orile.
According to a release signed by the Press Officer in the Ministry of Local Government and Chieftaincy Affairs, Mrs. Oluwaseun Boye, the event was held at Ilewo Community High School, Ilewo-Orile in Abeokuta North Local Government area of the state.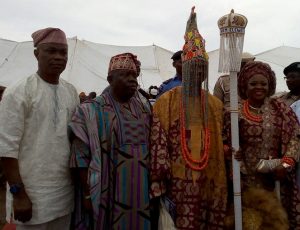 Amosun, who was represented by the Commissioner for Local Government and Chieftaincy Affairs, Chief Jide Ojuko, said that beside the fact that traditional rulers are the custodians of traditions and cultural values of their domains they also aggregate the collective aspirations of their people.
The Governor, therefore, congratulated the sons and daughters of Ilewo for maintaining peace and order after the demise of the immediate monarch, the late Oba Nathaniel Orisabiyi, who joined his ancestors on February 14, 2014.
He added that the large turnout of the people was a demonstration of the unwavering commitments of Amosun administration in providing leadership for every traditional institutions where vacancy existed.
The Governor further said that the present administration would continue to discharge its mandate anchored on the five cardinal programmes as enshrined in the mission to rebuild the state by paying attention to education, health, agriculture and above all providing adequate security required for socio-economic well-being of the state.
"Kabiyesi you are expected to play the role of a father to all your subjects, including those who have contested the stool with you," Amosun said, adding: "I urge you to also see your appointment as a clarion call to serve your people."
Earlier, the Chairman of Abeokuta North Local Government, Hon. Kunle Folarin, called on the new monarch to mobilise all available human and material resources to ensure rapid growth of the community.
Folarin urged the sons and daughters of the community to cooperate with the monarch for peace, progress and rapid development of the area.
In his acceptance speech, Oba Omosowon appreciated the government and its functionaries and those who have contributed to the success story of the historic town for the opportunity given him to ascend the throne.
The new monarch promised to seize the opportunity to restore mechanised farming and modern day agriculture business in order to boost agricultural production amongst others.
To contact GatewayMail newspaper, Toronto, Canada email us at: info@gatewaymail.org, whatsapp or text message: +2348033186252 (no calls).