At 80, Oba Tejuoso is a blessing to Oke Ona, Egbaland, says Bashorun Shoyoye
http://www.gatewaymail.org/wp-content/uploads/2018/02/Oba-Adedapo-Tejuoso...Osile-of-Oke-Ona-Egba..jpg
Chief Adebayo Shoyoye, the Bashorun of Oke-Ona Egba and  Balogun of Ilawo, one of the 10 townships under the rulership of Osile of Oke Ona Egba, Oba Adedapo Adewale Tejuoso, spoke recently with GatewayMail on the unique 80th birthday of the first class traditional ruler.  He explained in details plans to make the monarch's octogenarian birthday memorable.  Excerpts:
Sir, can we know you. Who is Bashorun Adebayo Shoyoye?
I'm the Balogun Of Ilawo Township and Bashorun of Oke Ona Egba.  Ilawo Township is number five in order of seniority of the 10 townships of Oke Ona section of Egbaland, under the prescribed authority of Oba Adedapo Adewale Tejuoso, CON, Karunwi lll, Oranmiyan, Osile of Oke Ona Egba. I'm a born again Christian married  to Asiwaju Iyalode of Egbaland, Chief (Mrs.) Anuoluwapo Olabisi Shoyoye (Nee Williams).  I'm a businessman in haulaging and dredging, imports and export, building construction, suppliers to the construction sector. Finally, I'm blessed with seven children and grandchildren to the glory of Almighty God.
As one of the Chiefs in Oke Ona Egba, how will you describe the coming 80th birthday of the Osile of Oke Ona Egba, Oba Adedapo Adewale Tejuoso?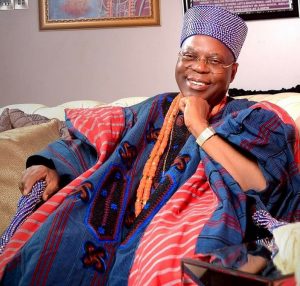 To attain the diamond age of 80 is by the grace of Almighty God, who made life possible.  The 80th birthday is a celebration of God's grace in the life of Kabiyesi.
It is going to be a moment of thanksgiving and worship to Almighty God, who spared the life of our Kabiyesi up till this glorious age.  The whole world will celebrate with Kabiyesi because he is an international figure.  That is to say that all the Egbas will be hosting people from all walks of life to celebrate this wonderful anointed king from God.  Oke Ona Egba is one the four pillars of Egbaland, therefore all Egbas will celebrate with him in adoration to Almighty God.
To you sir, who is Oba Adedapo Adewale Tejuoso?
Kabiyesi, Osile of Oke Ona Egba, is an amiable father, lover of children and caring father, supporter of fatherless, widow and needy.  Kabiyesi is a very cautious, intelligent, observant person.  He doesn't play foolish anytime, he doesn't waste time unnecessarily.  He does things according to rules; he has no time for frivolities. When you don't have the opportunity of getting close to him, you might think he is proud, but he guards his spirit all the time because the children of this world seem to be clever in their own eyes.  He hates lies.  You can't lie to him and go scot-free, unless he decides to leave you and allow you play "the fool."  He is highly principled; he loves God with his total being.  He is a born again Christian, who organizes Christian crusades all over Nigeria and beyond.  There is Christian fellowship in his house every day.  He observes quiet time most of the time every day to communicate with Almighty God. Kabiyesi is blessed with three Oloris and 24 children (12 males and 12 females). Kabiyesi is a writer and a keeper of our heritage. He has written lot of books for posterity sake.  Check his books online obatejuosobooks.com.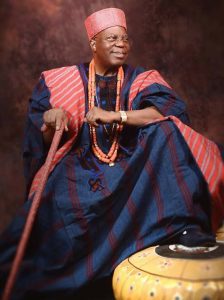 Definitely 80 years is a milestone in the life of your Kabiyesi in Oke Ona Egba.  What are the plans on ground by Oke Ona indigenes to make this birthday a great day?
The preparations are in top gear to welcome people from all walks of life to celebrate with us and make his birthday memorable. The Oke Ona Egba Traditional Council representing, the indigenes has the following arrangements:Carnival (Woro) dancing and drumming by youths of Oke Ona Egba all over Abeokuta to announce Kabiyesi's birthday to all the people living in Abeokuta, market women and business concerns; the Woro commences from the Osile's Palace, Sapon from 8am on the 17th of February 2018.
Paying homages to Kabiyesi at Sapon Palace by All Egba General title Chiefs and Oke Ona Traditional Title Chiefs, Clubs, societies, Market Women, at 9am on 17th of February 2018.Clergymen and All Christians of Oke Ona Egba commence prayers and worship for the 80th Birthday of Kabiyesi at 10am on the 17th February 2018.
Imams and the Muslims of Oke ona Egba Community Prayers at 11am on 17th February 2018.
Conferment of Chieftaincy titles to some illustrious sons and daughters and friends of Oke Ona Egba at Osile's Palace Sapon, Abeokuta at 12pm on the 17th February 2018.
On Monday 19th 2018 at 10am, birthday service and celebrations at Olusegun Obasanjo Presidential Library (OOPL) Oke Mosan, Abeokuta.
On Saturday 24th February 2018 at 10am, praise unlimited to the King of kings at Olusegun Obasanjo Presidential Library (OOPL) Oke Mosan, Abeokuta.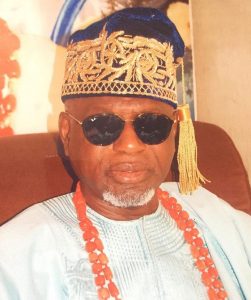 On Sunday 25th February 2018 10am, there will be thanksgiving service at The African Church Cathedral of St. James, Idi- Ape, Abeokuta.
Kabiyesi Christian Circles also arranged crusades throughout Ogun State to propagate the good news of salvation.
What are your messages to Oke Ona Egba indigenes in diaspora, particularly on this special birthday of their traditional ruler. Oba Tejuoso?
My message to Oke Ona Egba indigenes at home and abroad is simply to come together and make Oke Ona Egba proud again.  As Yoruba adage says "Ile labo sinmi oko" and "Odo ki gbagbe orisun e" which translate to mean, Home is home, wherever you go, you will still come back home.  On this note, it is my sincere advice that all hands have to be on deck to make contributions toward the socio- economic development of Oke Ona Egba.  The infrastructural developments going on "Mission to Rebuild" by the state government ably championed by our great Nehemiah of our time, Senator Ibikunle Amosun CON; FCA, expansion of roads opened our community up for planning and redevelopment.  Osile's palace needs to be rebuilt; the expansion of roads had taken most part of the palace.  Arrangements are on to rebuild the palace of Osile.  Let us all come together and partake in the developments going on at home. Those who join in this clarion call shall not be left unnoticed.  Gone are those days when people run away from their domain.  We are not to run away from our responsibilities, but to be responsible because the other sections of Egbas cannot do it for us.  As we do this in remembrance of our forefathers, God Almighty will bless us.
What do you know about Oba Tejuoso, that are outstanding, that you want the people to know, particularly your relationship with him, even as fellow ex- student of the same old Abeokuta Grammar School?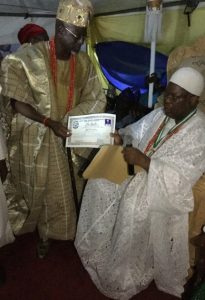 If you mention Abeokuta Grammar School, fearlessness is the common attributes of all the students, both old and present.  We were thought to be truthful in all dealings and fear not.  All those who are truthful shall be bold as lion.  "For God hath not given us the spirit of fear; but of power, and of love, and of a sound mind." 2Tim. 1:7.  Also the Abeokuta Grammar School motto "The fear of the Lord is the beginning of WISDOM" Prov. 9:10a.  The outstanding qualities of Oba Tejuoso stem from the three principles I mentioned above: those who are truthful and fearless, but has the fearful of God shall always shine as diamond anywhere.  Another lesson taught generally in Abeokuta Grammar School could be found in Rom. 12:1-21.  It says "I beseech you therefore brethren, by the mercies of God, that ye present your bodies a living sacrifice, holy, acceptable unto God, which is your reasonable service.  And be not conformed to this world; but ye transformed by the renewing of your mind that ye may prove what is that good, and acceptable, and perfect will of God" etc.…. Be not overcome evil, but overcome evil with good.  Apart from his humble background, from a good Christian home, Abeokuta Grammar School moulded Kabiyesi Tejuoso.  He is a very charitable, caring and highly intelligent monarch.  May God continue to give him wisdom and good health as he lives onto 90 years and more by His grace.
How will you describe the coming to the throne of Oba Tejuoso and his reign since 1989?
Kabiyesi's coming to the throne of Oke Ona Egba had been of tremendous blessings to Oke Ona Egba, Egbaland and Nigeria in general.  He is an educated Oba, qualified medical doctor, highly intelligent, wealthy and from a wealthy background.  He has a lot of experiences in the business world; he has many very important colleagues in the professional field and in the corridors of power, both in Nigeria and outside of Nigeria. He was divinely and unanimously selected to be king over the Oke Ona Egba people. Traditionally, his forefathers were the first to step into the land of Abeokuta.  Kabiyesi's late mother, Chief (Mrs.) Esther Abisoye Tejuoso, was the third Iyalode of Egbaland (1916-1996).  The aforementioned were great blessings to Oke Ona Egba.  As a well-educated traditional ruler, he could stand in any place to represent Oke Ona Egba and Egbaland in general.  Kabiyesi has been blessed with wealth, he has money to spend for himself and therefore he cannot beg for money from any individual.  This will make him to do justice without favour or fear. Our Kabiyesi is very influential; he can use his influence to transform Oke Ona Egba into a formidable community.  The Oke Ona Egba has been progressive.  I can authoritatively tell you that Oba Tejuoso has elevated the stool of Osile beyond how he met it and this is very impressive.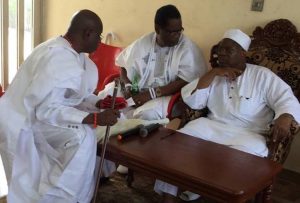 What are challenges facing Oke Ona Egba and its indigenes in Egbaland, if any, and how has Oba Tejuoso, probably in conjunction with you and his Chiefs, been able to handle it and will surmount other challenges ahead?
Let me first go to the Osile of Oke Ona Egba crest/logo.  Inscribed in this logo, we have "He touches nothing that he does not adorn."  This inscription tells us that Kabiyesi came on the throne to care for his people and make some changes for the betterment of the Egbas.  It is very obvious that in Egba traditional settings, it was going to be a very long struggle, though change is inevitable anywhere, but people always refuse to change.  Kabiyesi Osile was a Christian before he came to the throne.  He discovered that Christianity is not a human principle, but living in Spirit as "God is Spirit and they that worship him must worship in spirit and in truth as read in John 4:24.  There was a problem; with Kabiyesi, who is spiritual, and the traditionalists. Osile decided to go by the word of God.  No king was installed without his own personal religion, so there was a step to be taken by Osile, to live in the way of the Lord; he determined to obey God than obeying what the tradition says.  Thank God, the cloud is clear as Oke- Ona Egba marches on.  We believe with God, all things are possible and any challenges ahead will be surmounted and by handling them in love.
Can you tell us how many towns in Egbaland make up Oke Ona and their boundaries?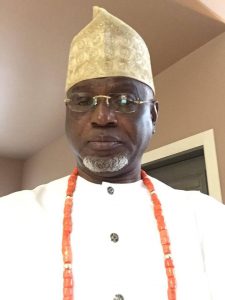 There are 10 townships now in Oke Ona Egba: Ago-Oko, Ikija, Ilugun, Ikereku, Ilawo, Ago Odo, Idomapa, Iberekodo, Idofin, Imala.  All these 10 townships have their villages scattered all around local Governments within Egbaland: Obafemi/ Owode Local Government, Odeda Local Government, Ifo/Ota Local Governments, Opeji currently under Abeokuta North Local Government area.  The matter of boundaries, would be overwhelming for discussions here because the purpose of the interview is to give a general overview of the present situations in Oke Ona Egba at the time our Kabiyesi celebrates his 80th Birthday.
How has Oba Tejuoso been able to reposition Oke-Ona Egba within the socio- cultural, political and economic structures of Egbaland?
Oba Tejuoso has contributed in no small measure to the socio-cultural, political and economic development of Egbaland.  I am sure you remember the role he played as a leading member from South West to National Conference during Abiola/Abacha crises.  The revelation of Al Mustapha in Vanguard of Tuesday May 31st 2016 was a good evidence to attest to this.  It is of note that Kabiyesi's first son, Senator Lanre Tejuoso, is a current distinguished Senator of the Federal Republic of Nigeria.  Oba Tejuoso has socially and economically brought good fortunes to Oke Ona Egba via empowerment and health facilities programs.  Kabiyesi and chiefs of Oke Ona Egba have businesses in and around Egbaland, which are benefitting Egba indigenes.  During the tenure of Senator Lanre Tejuoso, as Commissioner for Special Duties, many Egbas benefited a lot.  We pray that our Kabiyesi will live long. Amen.
How has the sharing positions and political affairs been among the four sections in Egbaland, in which Oke Ona is one and others are Egba Alake, Egba Gbagura, Egba Owu, and by extension, Ibara?
Oba Tejuoso has been very bold to contend and express his unhappiness about how positions and political offices are being shared.  The other sections are not happy too, but the struggle continues.  In any society, there should be fairness and equity.  This lies in the hand of the state government and the politicians as they have the instrument to the sharing formula. "E se aye ire ko daara, eni aye ba kan ko se aye re. (The politician should eschew injustice within the polity).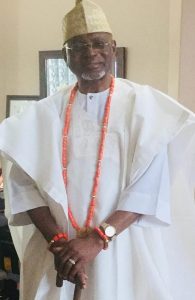 Has the status of being a born-again Christian by Oba Tejuoso affected the traditional institutions in Oke Ona, and by extension Egbaland?
The status of Oba Tejuoso being a born-again Christian has positively affected Oke Ona Egba and Egbaland in general.  One cannot take religion away from our way of life, so Kabiyesi's religion is Christianity and it shows in his way of life.  Therefore, traditional religion and traditionalists are not happy with some of the ways of life of Kabiyesi because he has not allowed a mixture of his belief.  But I believe things are getting better now.  "Mo iwa fun oniwa ni nje ore jore" (Someone can still be my friend, if he takes me as I am).  It's a new wave.  People will soon get used to the fact that kings are human beings, with their own ways of life.
Do you share in the belief that occultism, fetishism, or indeed traditional religion worships in our society, probably Oke Ona culture, should be stamped out, apparently in line with the stand of Oba Tejuoso?
Oba Tejuoso, being a Christian, has the right to preach the gospel.  He has not compelled anybody to accept his faith. "It is what you have that you can give and it is what I want that I will take."  No one forces a particular religion on anybody.  I have been around Kabiyesi Osile that after prayers by the Muslims and Christians, he will instruct the traditionalists to pray.  No one wants to stamp out any religion.  It is a matter of choice since you don't infringe on my own convenience, it's allowed.  Since this is not a forum to condemn any practices, I will just submit that "Whatever you do will show in your life, either good or bad it's your choice.  What you sow you shall reap." Culture and traditions are all subject to changes to meet modern day life and status.
I recall several years ago when Oba Tejuoso demolished some fetish objects within Karounwi compound in Ago Oko.  Since then, has there been any influence or not of these traditional religions in the chieftaincy culture of Oke Ona Egba?
Kabiyesi Osile demolished some fetish objects within his Karounwi compound, which belongs to him and his immediate family.  It has nothing to do with the traditional culture in Oke Ona Egba because what he destroyed in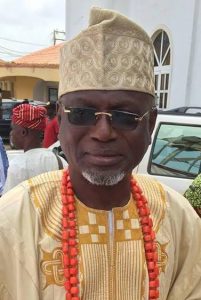 their own compound still exists all over other places in Oke Ona Egba.  Whatever I do in my house doesn't concern anyone.  But if I ask Kabiyesi or anyone to bring money to make sacrifices, for idol worship, is a different thing.  Everyone mind their business in Oke Ona Egba in respect to religious activities.
Related to this question is that on that day, in the presence of the late Chief Akoni, Oba Tejuoso said that when kings transit they should be buried according to their religions not by traditional culture.  What is the stand of Oke Ona Chiefs on this?
Kabiyesi Osile is not the only one clamouring for this change.  All the Obas in Yoruba support this.  Traditional burial is an outdated traditional practice; it doesn't conform to modern day tradition.  Awujale of Ijebuland, Oba Sikiru Kayode Adetona, is also an exponent of this change and the Obas are pressing forward in the state legislative arms of government for this change.  Once it is passed into law, there is nothing anyone can do.  In most cases, the traditionalists are not buried according to their traditional rites.  Most of them are either buried as Muslims or Christians.  The Oke Ona Chiefs stand on this; that "religion is a personal matter; it is how you live your life."  As we have Christian Chiefs, so also we have Muslim chiefs.  Traditionalists practice their belief without any interference by anybody.  We are very accommodating in Egbaland, there is no religious bias. Thank God.
How do you want to see Oke Ona Egba in next few years, possibly a decade, under the rulership of Oba Tejuoso?
Would like to see more unity among the Oke Ona Egba indigenes.  We need community development progression among the inter townships.  All the muds and very old houses to give way to modern infrastructures, provision of drinking water, location of small businesses around the immediate environment of each township.  We need the new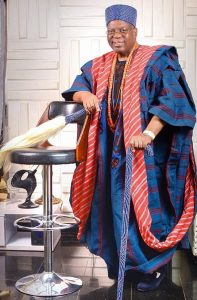 palace for Oke Ona Egba.  The issue of Oke Ona Day is in the pipeline, to bring all Oke Ona indigenes together in order to foster unity between the youths of today and the elders for human capital development, particularly among the youths.
What are your pieces of advice to Oba Tejuoso as he joins the Octogenarian club on February 19th 2018?
My prayer is that Kabiyesi will live long in good health; he should take life easy, worship God more, posterity will judge his work.  He had done a lot; he should delegate duties to the chiefs so that they can gain a lot from his experiences in life. Forward ever backward never.  Long live Oke Ona Egba!  Long live Egbaland!  Long Live Osile Of Oke Ona Egba!
Kabiyesi Oba Arojojoye Oba Adele tejiteji, Oba Olilu Ayiyitan, Oba Afilugba bi ogede.  Omo arohunmusere, Omo alara, ka wo ma lo, Omo owo gbeledefu, Omo ona o tibi kan woja, Omo alapoti, omo ola ko nekun, Omo  Olaosebikan, omo agara ola ni dani.  Omo Olodo kan, odo kan, eyi ti o san wereke ti o san wereke, o dehinkule Osile o dabata.  O wa du bi aro kijikiji. Abilake, omo Ajogberu majogbeko, eru ni sin ni, eko ki sin niyan. Omo eja megun soro.  Omo eerin mi lasala nigbedu ora. Omo onilu kan babatiriba, Eyiti won ko nfi awo ekun se, afi aketepin eti erin. Kabiyesi O.
To contact GatewayMail newspaper, Toronto, Canada email us at: info@gatewaymail.org, whatsapp or text message: +2348033186252 (no calls).