Ogun LP lambasts Amosun's administration
…Describes APC government as curse to Ogun State
http://www.gatewaymail.org/wp-content/uploads/2018/02/Arabambi-and-other-members-of-the-new-executive-at-the-swearing-in-ceremony..jpg
By Sola AJIBIKE (Abeokuta)
NIGERIA: THE Labour Party (LP) in Ogun State has lambasted the All Progressive Congress (APC) administration of Governor Ibikunle Amosun.
The party alleged that with the series of policy decisions so far taken in the running of government, the APC administration had destroyed the future of the state's children and the unborn.
The LP, through its newly elected Chairman, Comrade Abayomi Arabambi, said during his acceptance speech at the official inauguration of the new executive that Amosun's reckless spending is alarming.
He alleged that the governor prevented the contractor of a collapse building worth N780 million from being prosecuted for personal hidden reasons.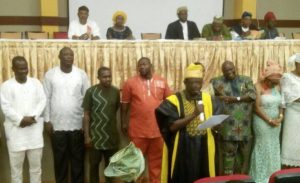 Arabambi, who lamented that the APC administration was an abysmal failure and curse to the state, further alleged that Amosun had rendered the state educational system useless, citing among others, payment of WAEC fees and cost of model schools.
"The problem of Ogun State is Governor Amosun, who has demonstrated high level of incompetency and lack of focus," he said, adding: "The present administration of Governor Ibikunle Amosun has destroyed the future of our children and those unborn, with the total collapse of education in Ogun State."
"The construction of 20 model schools at a combined cost of N50 billion tax payers' money with no student in them is now a white elephant project that now houses various wild animals and dark spirits from hell," Arabambi further said.
He also said: "Amosun has ensured the collapse of a shopping mall worth N780 million and nothing was done other than the governor taking responsibility to avoid the contractor being charged to court."
The Chairman, however, expressed optimism on LP victory in the 2019 gubernatorial election.
"Our administration will return the already decimated economic powers of our citizens once our governor is sworn in come May 2019," he said.
Meanwhile, the National Chairman of LP, Alhaji Abdulkabir Abdusalam, has expressed confidence in the party's leadership in the state.
"In Labour Party there is no crisis; last week I was here.  I met with party leaders, among others, including one Ogini and I told them that they should ensure that there is peace and produce only one list before I left," Abdusalam explained.
"Later Ogini called me asking that I promised him the chairmanship post, but I told him that he should align with the structure on ground," he said, adding: "Probably the reason I promised him the post of the Chairman is no more tenable."
Abdusalam further said: "As a result, I am telling you now that these are the authentic leaders of the Labour Party in Ogun State."
"I want to assure you that from this time there will be massive campaign of the gospel of the party," he stressed.
To contact GatewayMail newspaper, Toronto, Canada email us at: info@gatewaymail.org, whatsapp or text message: +2348033186252 (no calls).