FAD Maestro congratulates Olu Igbein on elevation to first class
http://www.gatewaymail.org/wp-content/uploads/2018/01/Olu-Igbein.jpg
By Olu AJAYI (Abeokuta)

NIGERIA: FAD Maestro School in Ogun State has congratulated the Olu of Igbeinland, Oba Festus Oluwole Makinde, on the elevation of his stool to first class status.
The school management in a congratulatory letter signed by the Proprietress, Deaconess Olufunke Fadugba, stated that it noted the "tough and thorny journey" that Oba Makinde, Ojoru Joba, Lisoyi 1, went through to attain the new status.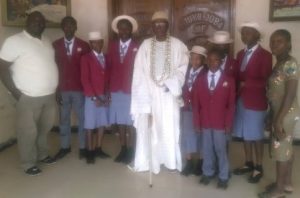 "On behalf of the management, staff, students and pupils of Fad Maestro School, we want to congratulate you on your elevation to a 1st Class Oba by Governor Ibikunle Amosun," the Proprietress said.
"Kabiyesi, taking into cognisance the tough and thorny journey passed through to secure the respect and recognition of the stool in the overall interests, and benefits, of the people of Igbeinland, we join all well-meaning people of the land and residents, to say the elevation is deserving," Fadugba, a former Chairman of the Nigeria Union of Journalists in Lagos State, stressed.
"Sir, we recall with sense of pride to have hosted you and some of your chiefs in our school during our indigenous peoples day celebration," she emphasised.
"You were fatherly and this encouraged us that we are in a blessed land (ile eletu loju la wa)," Fadugba, whose pupils visited the royal father in his Loburu palace, said.
While expressing joy that the elevation was a well-deserved one, she declared: "Once again congratulations sir."
To contact GatewayMail newspaper, Toronto, Canada email us at: info@gatewaymail.org, whatsapp or text message: +2348033186252 (no calls).