Ogun Upgrades Olu Igbein Stool To First Class Status
http://www.gatewaymail.org/wp-content/uploads/2018/01/Oba-Festus-Oluwole-Makinde...Olu-of-Igbein..jpg
By Femi SHODUNKE
NIGERIA: CHEERING news of the New Year has come the way of the Olu of Igbein, Oba (Dr.) Festus Oluwole Makinde, Ojoru Joba, Lisoyi 1.
The Ogun State Governor, Senator Ibikunle Amosun, has approved the upgrading of his Olu Igbein stool to a first class status with effect from last Tuesday.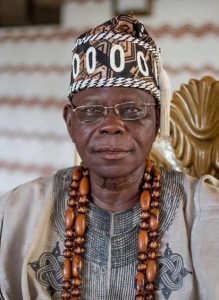 The decision to do so, according to Amosun, was in line with the powers conferred upon him by Section 5 (1) of the state Council of Obas (Amendment) Law of 2005.
By this approval, Oba Makinde, will henceforth join other traditional rulers in the state, under the aegis of the Ogun State Council of Obas, currently chaired by Alake of Egbaland, Oba Adedotun Aremu Gbadebo, to hold regular meetings and deliberate on traditional matters affecting their domains and the state.
The government's decision to upgrade the status was conveyed to Oba Makinde in a letter reference number CHM.10/63/Vol.1/341 dated January 11, 2018 and signed by the Director, Chieftaincy Affairs for Permanent Secretary, Ministry of Local Government and Chieftaincy Affairs, Chieftaincy Affairs Department, Dolapo Adewunmi.
"I am pleased to inform Kabiyesi Alayeluwa that His Excellency, Senator Ibikunle Amosun CON/FCA, Governor of Ogun State, in exercise of the powers conferred upon him by Section 5 (1) of the Ogun State Council of Obas (Amendment) Law of 2005 and by virtue of all powers enabling him in that behalf, has approved the upgrading of the Chieftaincy Stool of Olu of Igbein in Obafemi/Owode Local Government presently occupied by Kabiyesi to a First Class status with effect from Tuesday 2nd January, 2018," the government said in the letter entitled "Upgrading to First Class Status."
The government explained that following the approval, it will soon publish the upgrading in the government gazette, apparently to give it legal teeth.
"The upgrading will be published in the Government Gazette in due course," it said, while praying for good health and long reign of Oba Makinde.
It said: "May the Almighty God grant Kabiyesi good health and long reign on the exalted stool of your ancestors (Amen).  Congratulations, Kabiyesi Alayeluwa."
Oba Makinde, however, has expressed joy and appreciation to Amosun on the upgrading which he said was long overdue.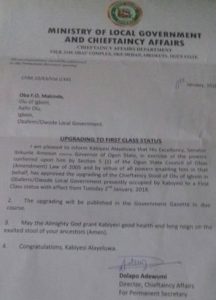 "Definitely, my first reaction on receiving this letter is that of great joy," the royal father, who ascended the throne on September 1, 2004, said.  "And I profusely thank our dear and amiable Governor, Senator Ibikunle Amosun, for not only bringing this good news in the New Year 2018 to me, but the entire citizens of Igbein, both at home and in diaspora."
He added: "This upgrading is long overdue, and for coming into reality under the leadership of Governor Amosun, let me say, on behalf of all indigenes of Igbeinland, that we are indeed grateful to our governor and we shall continue to appreciate him for the great upliftment given to our throne."
According to Oba Makinde, the new status will propel him to do more for the people of Igbein, Egbaland and Yoruba race.
"With this upgrading, I will continue to dedicate myself to the service of Igbein people, and Egbaland, and let me say that the sky is the limit on many greater developments that will happen in my domain, particularly with the new status conferred on Igbein people through me," the traditional ruler, whose palace is in Loburo, stressed.
To contact GatewayMail newspaper, Toronto, Canada email us at: info@gatewaymail.org, whatsapp or text message: +2348033186252 (no calls).