Balloon kills tourist, injures 12 others
http://www.gatewaymail.org/wp-content/uploads/2018/01/The-balloon-crash-occured-in-Egypt..jpg
By Olu AJAYI (Abeokuta)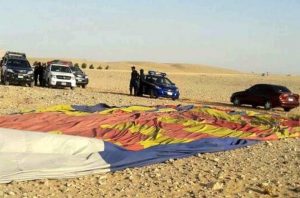 NIGERIA: A HOT air balloon carrying tourists from different countries in Egypt has killed a South African tourist and injured 12 others.
GatewayMail gathered that no fewer than 20 people were on board the balloon when the accident occurred last Friday in Luxur.
It was learnt that among those on the balloon were tourists who came from Egypt and those from South Africa, Argentina and Spain.
Sources at the Egyptian Health Ministry stated that besides the killed 36-year-old South African woman, two of those injured were in critical condition at Luxor International Hospital.
However, sources explained that the crash occurred due to bad weather when the balloon was travelling over the city.
The balloon, it was also gathered, went off course into a mountainous area due to strong wind.
To contact GatewayMail newspaper, Toronto, Canada email us at: info@gatewaymail.org, whatsapp or text message: +2348033186252 (no calls).