Customs warns smugglers against importation of rice
http://www.gatewaymail.org/wp-content/uploads/2017/10/NCS-3.jpg
By Sola AJIBIKE (Abeokuta)
NIGERIA: FOLLOWING the production of MITROS rice by the Ogun State government, the state Area Command of the Nigeria Customs Service (NCS) has warned smugglers to desist from importation of rice into the state.
The NCS gave the caution at the time it pledged its support to the state government to protect the production of the domestic rice.
The customs State Comptroller, Sani Madugu, said at a press briefing held at the customs headquarters on Wednesday in Abeokuta that it would, during this festive period, promised to track down all smugglers in the state.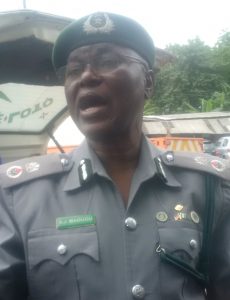 Madugu stressed that the command was working all the time to ensure smuggling activities were reduced to zero level.
He maintained that the production of the MITROS rice would help the country in the reduction of food scarcity and high cost of rice.
"We are equally mindful of the recently launched rice by Ogun State government that is Ofada Rice," the comptroller said.  "We have a letter from the Ministry of Agriculture, Ogun state and we are encouraging the manufacturing of this rice."
"We are fully in support of it and we would give them all necessary support and make sure Ogun State rice succeeds," he said, adding: "Once it succeeds, it would help the nation, it is not Ogun State alone that would benefit from it, the whole country would benefit."
On the seizure made by the command, Madugu said that his men have intercepted no fewer than 23 smuggled vehicles worth over N37 million from smugglers in both Idi-Iroko and Abeokuta.
According to him, the command also seized 391 bags of rice worth over N3 million and others smuggled goods like clothes, shoes, and electronics, among others, worth over N6 million.
"We have a total of duty paid value of over N62 million while we have seized about 391 bags of 50 kg rice, we also intercepted about 23 cars from both the Abeokuta and Idi-Iroko axis of the command," Madugu said.
"We are not sleeping; we are working 24/7 to make sure smuggling activities is a thing of the past in Ogun State," the Comptroller said, adding: "We would keep using new tactics to discover the new techniques used by smugglers."
"Ogun State is not a go area for smugglers, stay away from Ogun State.  Don't smuggle rice to Ogun State again because we already have our own rice that is being manufactured in the state," Madugu stated.
To contact GatewayMail newspaper, Toronto, Canada email us at: info@gatewaymail.org, whatsapp or text message: +2348033186252 (no calls).