Ogun launches Ofada MITROS rice, assures on affordable prices
http://www.gatewaymail.org/wp-content/uploads/2017/12/Ofada-4.jpg
By Sola AJIBIKE (Abeokuta)
NIGERIA: A NEW rice, Ofada MITROS, has been released into the market in Ogun State.
The production of the rice in commercial quantities is part of the Ogun State government efforts at achieving the set goals in agricultural sector and ensuring food security, the state Governor, Senator Ibikunle Amosun, has said.
Amosun, who spoke at the launch of the rice in Abeokuta, promised that it will be affordable to the people.
He stated that the rice would be ready for sale during the festive period in all the local governments and Local Council Development Areas of the state.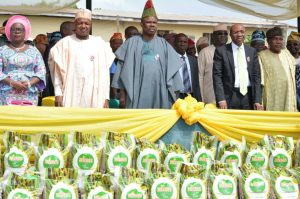 The rice which comes in 50 kilogramme, 25 kilogramme, 10 kilogramme and five grams were sold to the public at subsidised prices shortly after the launch.
"We are intensifying our contribution to the attainment of that vision," the Governor said.  "We will vigorously pursue the needed partnerships and collaborations, with other state governments, and the Federal Government, and most importantly, with the private sector in order to actualize this vision."
He said: "In this respect, I wish to acknowledge and commend the laudable efforts and support of the Presidential Task Force on Agricultural Commodities and Production.
"I wish to state unequivocally that this landmark achievement has been made possible by the visionary leadership of our dear President.  The MITROS rice project is one of the positive outcomes of this strategy."
"One of the biggest tragedies of our nation is our dependence on food imports to feed our population, in spite of our abundant arable land and labour force," Amosun said.
He added: "The impact of this on our economy has been significant: pressure on our foreign reserves, and by implication the loss in the value of the naira; and the needless outsourcing of agricultural work to distant countries even while large numbers of our people have struggled with unemployment.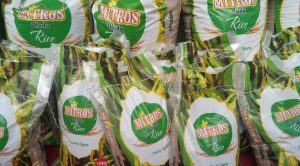 "For us in Ogun State, we cannot afford to sit back and watch our people suffer unnecessarily due to food insecurity.  The availability of food is synonymous with the survival of the society as a whole."
"Besides, our past efforts at tackling poverty in all ramifications will amount to nothing if concerted efforts are not taken to ensure food security to people at all income levels."
The Central Bank of Nigeria Governor, Mr. Godwin Emefiole, said that Ogun State has continued to demonstrate the urge to support the focus of the Federal Government to create jobs and to grow the economy.
"A country that doesn't take agriculture seriously is naturally an unserious country," Emefiole said, adding that it goes a long way to conserve foreign exchange because the country will no longer be spending scare foreign exchange to import agricultural produce.
"We will now tell ourselves that we will eat what we produce and we will produce what we eat," he stressed.
"We are going to be looking at providing cheap funding at no more than five percent for those who are going to be assessing facilities to acquire agricultural equipment like thrashers, harvesters and fish farmers or those who will be going into feed mills.  Be rest assured that if you identify yourself, we are to support you," the CBN boss stated.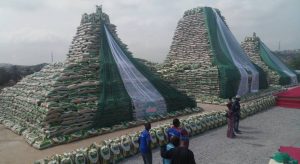 Kebbi State Governor, Abubakar Atiku Bagudu, said: "Nigeria has the ability to produce rice competitively.  Currently, there is no nation that can produce rice cheaper and deliver it to Nigeria and to be imported properly and for such rice to compete with the rice being produced by Nigerian farmers."
"Therefore, it is important for us all to mobilize and patronize Nigerian rice and Nigerian commodities because, if anything, we know how they were produced, we know the executive standards," Bagudu, who is also the Chairman of the Presidential Task Force on Agricultural Commodities and Production, said.
He further said: "We know the freshness, compared to commodities we know relatively nothing about, unlike MITROS Ofada Rice or Ebonyi rice or Confluence Rice or any other rice from any other state from Nigeria.  This achievement wouldn't have been possible without the support of the Central Bank of Nigeria."
To contact GatewayMail newspaper, Toronto, Canada email us at: info@gatewaymail.org, whatsapp or text message: +2348033186252 (no calls).