Police probe death of billionaire Apotex owner, Sherman, wife
http://www.gatewaymail.org/wp-content/uploads/2017/12/Sherman.png
By Femi SHODUNKE
CANADA: TORONTO police detectives have commenced investigation into last Friday suspicious death of billionaire and owner of giant drugs company, Apotex, 75-year-old Barry Sherman and his 70-year-old wife, Honey.
Sherman said to worth $4.6 billion dollar whose pharmaceutical company employs over 11,000 workers across the globe is reputed as one of the big financial gurus in Toronto in particular and Canada in general.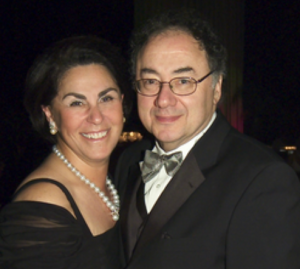 The police said on Sunday that its homicide department had taken over the investigation of the death, particularly after post-mortem examinations discovered the cause of death to be "ligature neck compression."
"At 11:44 a.m., on Friday, December 15, 2017, police responded to a 9-1-1 call to 50 Old Colony Road," the police said in the news release obtained by GatewayMail.
The police also said: "Police officers attended the address and located a man and a woman inside the house.  Both were deceased."
"The deceased man has been identified as Barry Sherman, 75. The deceased woman has been identified as Honey Sherman, 70," the police further said, adding: "Post-mortem examinations were carried out yesterday and today. The cause of death for both deceased was ligature neck compression."
"Toronto Police Service Homicide has taken the lead in this suspicious death investigation," the police also said, while asking anyone with useful information to contact police at 416-808-7400, Crime Stoppers anonymously at 416-222-TIPS (8477), online at www.222tips.com, or text TOR and your message to CRIMES (274637). Download the free Crime Stoppers Mobile App on iTunes, Google Play or Blackberry App World.
GatewayMail learnt that the corpses of the deceased couple were found near their indoor pool by their real estate agent, who entered the multi-million dollar North York home after he was unable to reach them.
To contact GatewayMail newspaper, Toronto, Canada email us at: info@gatewaymail.org, whatsapp or text message: +2348033186252 (no calls).